I love to read. Looooooove to read. (in my mind I'm saying that in a low voice, almost guttural, for dramatic purposes so you know just how much I mean it. Try that. It's fun.) I know my favorite librarians by name. Laurie sees us walk in and comes to see what the kids are reading and to check on Asher and tell us about her fourth son who would only sleep in the car and how he's in the Air Force now and his friends tease him that he's asleep five minutes into any road trip. I know my library card number by heart. I walk in for one book and leave with two bags full. I love the library like most people love the Target. And, hoorah, it's free. Usually. Blasted late fees. So. Yes. Love reading.
As much as I love reading, I love sharing great books with my kids even more. OK, that might be overstating it a bit. Maybe it's more like a tie. That means that I always have at least two books going for me, plus one chapter book with Isaac, one with Audrey, and one with Elliot. It gives me such joy to talk about books with the kids and excitedly choose what we'll read next. Can't be Magic Treehouse or Droon series. While they are entertaining and fun, the monotony of the sentence structure makes my ears bleed. They know they must read those on their own, talk an older sibling into it, or find the book on tape because I just can't do it.
But, the question is: What are you reading right now?
The answer is:
Les Miserables by Victor Hugo
I have never seen the musical or the movie and this is my first time reading the book. I am glad I am experiencing the book first. I love so much about this book and it has me feeling very introspective as I consider why I am so attached to certain characters and so repelled by others. It's a big chunk of a book to break off and it is definitely slow going for me, but I am so glad I'm reading it.
10 Gifts of Wisdom by Sally Clarkson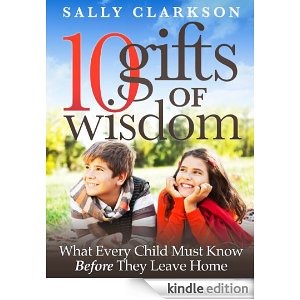 I'm reading this as part of an online book club organized by MOB-Moms of Boys. So far it is nothing earth-shattering, but it has very practical advice and is nice to have great parenting practices laid out in one space for easy reference.
With Isaac (10):
We just finished Black Beauty by Anna Sewell.
I found this book very repetitive and obvious. I was happy to see it end. We actually thought we were going to read Black Stallion, but got the two mixed up and, by the time we realized our mistake, we were too into the story to stop. Isaac's going to read Black Stallion on his own now and let me know if I should read it, too.
Up next, we have Bridge to Terabithia by Katherine Paterson.
I read this as a child, but don't remember much about it except that it was sad. I am excited to read it with Isaac to get his take on it. It's also nice to read heavier books together so we can talk about them and work through some of the emotions together.
With Audrey (7):
Anne of Green Gables by L.M. Montgomery.
Oh, this is just a wonderful book to share with a little girl. The prose is gorgeous, the vocabulary is lovely and does a great job of stretching a young reader without overwhelming her, and Anne is just fun. We are having a great time reading it together and I'm hoping to travel to Prince Edward Island with my grandma, mom, and Audrey during the summer of 2015 to see the beauty of the island for ourselves.
In the queue we have Five Children and It by Edith Nesbit.
We read a snippet of this book in Audrey's writing curriculum and she enjoyed it so much that she asked for it to be her next chapter book. I'm excited to read it with her.
With Elliot (5):
The Ballad of Lucy Wipple by Karen Cushman.
This is a fun historical fiction book set during the Gold Rush in California. The main character is full of sass after moving from a small town in Massachusetts to the middle of nowhere in California after her dad died. There are some sad moments, but nothing too heavy for a 5-year-old, and plenty of adventure. We are both enjoying it a lot.
Asher loves to eat all the books he can get his hands on so I give him a thick board book to gnaw on while I read to him. Right now I read a lot of Goodnight Moon, Chicka Chicka Boom Boom, The Big Red Barn, Time to Sleep, and The Going to Sleep Book. Hopefully he will develop a love of reading, too, and we'll be discussing books together in no time.
Thanks to Kelly at
Kelly's Korner
for the chance to link up and talk books. So many books, so little time.
What are you reading right now? I;m always looking to add to my miles long book list so please share in the comments or find me on goodreads,